Back To Our Services
These days security has become a major concern with home owners going to great lengths to protect their properties. With more options than ever in terms of home security available to invest in, from surveillance systems to security alarms, people tend to ignore the basics. The most vulnerable point of any given premises is usually the main entrance and it is on here that most of the security effort should be focused. And for most home owners, the main entrance is the driveway gate. A faulty or inoperable gate can present a significant security risk and leave your premises vulnerable to intruders. Also, a damaged or broken gate can ruin the looks of the property and detract from the aesthetic value. The driveway gate is the very first thing any visitor sees and first impressions are important.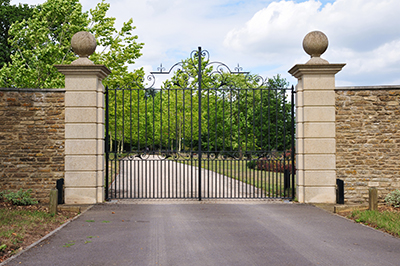 That's where we come in. We at "Gate Repair Tustin" have been repairing, installing and maintaining driveway gate for years, and we've built a solid reputation for ourselves as the go-to guys for all conceivable driveway gate related problems.
Professional Driveway Gate Repair
Some of the problems we commonly get called in to look into include structural or functional damage. Driveway gates that are mounted on tracks have a tendency to go off track and jam, making the gate unusable. Worse, a gate that is stuck half open is tantamount to an invitation to would be intruders. We've built a great reputation when it comes to reliable driveway gate track repair and we'll get your gate up and running in no time.
With automated driveway gates, people often face issues with the electronics failing over time and the openers becoming faulty. We have a great team of experienced technicians specialized in opener repair, and we'll get it working again. Other problems we've mastered handling include fixing broken driveway gate chains, providing routine maintenance, and installing new units.
Regular maintenance ensures small problems and niggles are eliminated before they grow into large problems requiring extensive and expensive work. With careful monitoring of your gate, we can help ensure all the components, tracks, chains and electronics are running smoothly and take care of problems even before they arise.
So no matter what problem you're facing, whether it's a matter of a simple cosmetic touch up or a opener repair, call Gate Repair Tustin. We can assure you that you won't be disappointed.
Back To Our Services